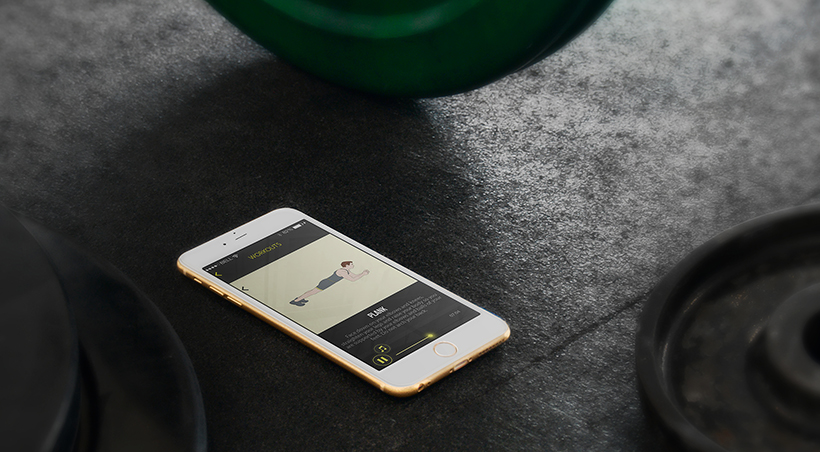 2 weeks today I was challenged to get into shape, within a 6 week period. It seemed mad at the time, but after 2 weeks I'm glad I took the challenge.Using the My Workout Buddy app, various gym sessions and alongside a strict diet plan these last two weeks have been challenging but rewarding.
The Results
The first few days were the hardest. Adjusting to the diet, getting over withdrawals from my past sugar binges and dealing with aches and pains from the exercising proved difficult. The second week was a lot easier though, and it's quite astounding how quickly things started to change.
It's all about habit, and all about routine. This challenge has helped that, as when I find myself struggling to motivate myself to exercise or eat well I get reminded by the $50 challenge that was set. There's no way I can afford to fail. (literally)
If you missed the original post, I was set the challenge to get in shape within a 6 week period. If I couldn't, I'd pay out $50 to everyone who signed up. You can still join the challenge if you haven't already, as there's various other prizes up for grabs too. Just click below.
Click here to join the original challenge.
Here's my pictures after 2 weeks of the challenge…
I'm lacking the definition required, and of course I still haven't hit the body fat target I set but it's amazing to see a slimmer version of me after just 2 weeks.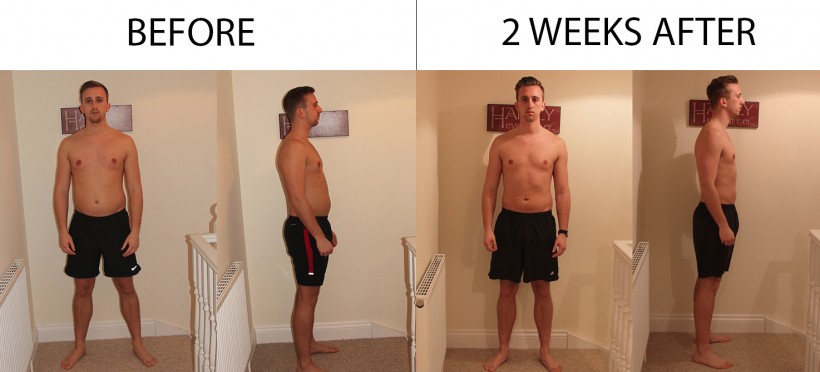 4 Weeks Left (Or You Win $50…)
There's still a mountain to climb for me to hit that set target of less than 12% body fat. The definition isn't there yet either, so at this stage I'll still be paying out $50 to everyone who joins the challenge.
Join the challenge, and read how I'm doing it here.
HIIT is kicking my ass, and the workout provided on the My Workout Buddy app is tough. I'm going to do more of the Full Body Workout's the app provides, alongside doing some heavier weight work at the gym.
I've found diet to be hugely important as well, as for the first few days I struggled to exercise at full capacity due to the aches and pains but the diet allowed me to continue to lose body fat. I'm still eating a lot, but just eating right.
I'm a long way off my targets, but the improvement is clear to see within just 2 weeks. I'm excited to see further improvement (I hope) over the next 4 weeks and looking forward to showcasing them at the end of the challenge (or I'll be skint).
Here's some things I might apply if results start to slow up.
Cold Showers – I've done this in the past and it helped. Cold showers (don't ask me how) have been proven to aid towards loss of body fat and all in all set you up for the day. I'll aim to spend at least 2 minutes each morning in a cold shower. I'll start off with it warm, apply Shampoo/Shower wash and then adjust the temperature to cold to wash off.
Lemon Water – A pint of water in the morning, with a freshly squeezed lemon. It's been proven to again carry multiple benefits including aiding weight loss, but all in all it's pretty refreshing in the morning.
Intermittent Fasting – Highly recommended, this will involve fasting for 16 hours each day. I've been advised to eat my last meal by 6pm at night, and then I can start eating again at 10am the next day. 16 hours of not eating, but I'll be sleeping for the majority of it. Doesn't sound as difficult as first thought. I'm a bit wary of this one though, but I'll use this as a back up if results start to slow.
More HIIT – I'm really liking the HIIT workout on the app, and it's a real fat burner. Therefore I'll start applying more HIIT sessions if results start to slow up.
I'll drop you an update in two weeks time, showcasing my 4 week results.
If you haven't joined the challenge yet, you can do so by clicking here.
Remember, if I fail… you win $50.
If I succeed, I'll send you the workout and diet plan I used. One person will also be chosen at random to win $150 worth of MyProtein.com goodies, and 5 people will win online personal training with Mark from My Workout Buddy.
Win win.
Thanks for reading!