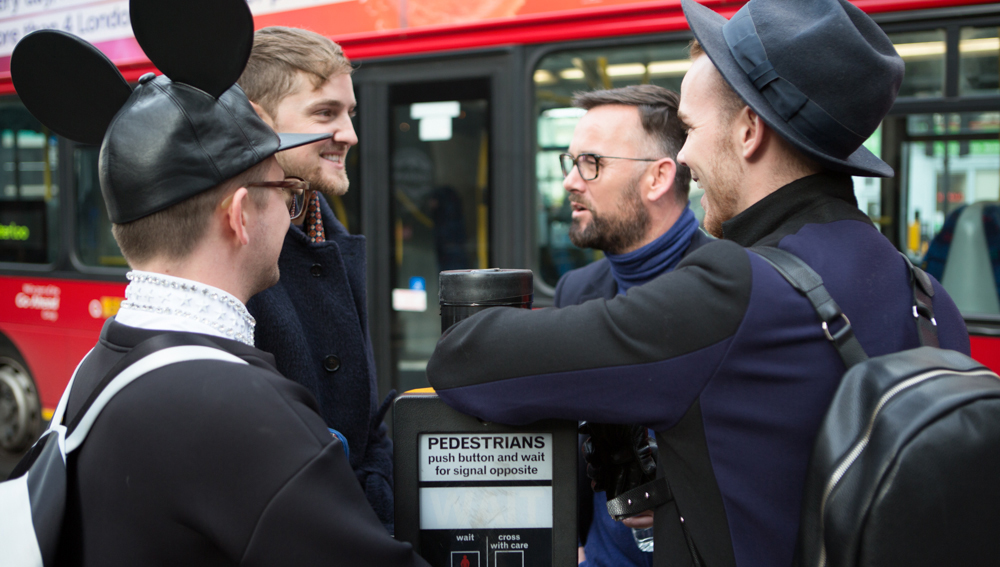 Hands up, I'm sorry for the delay in getting this to you. I had to work on my round up of LC:M for River Island, which can be read here, alongside giving the shows and presentations some coverage over at MFM. The awesome Danny Rhone put together a great round up which can be read here, and I worked on a Best Dressed From LC:M AW14 article for MFM too.
It's been hectic, and I'm sorry this didn't come to you quicker.
Day 2 and day 3 we're tiring, but exciting. There was some great shows and presentations, and I networked with some great people too.
But what caught my eye?
Day 2 at LC:M
Day 2 was a busy one, looking forward to shows from Hackett, Richard James, and James Long. Presentations from Duchamp and Hunter Gather also caught my eye.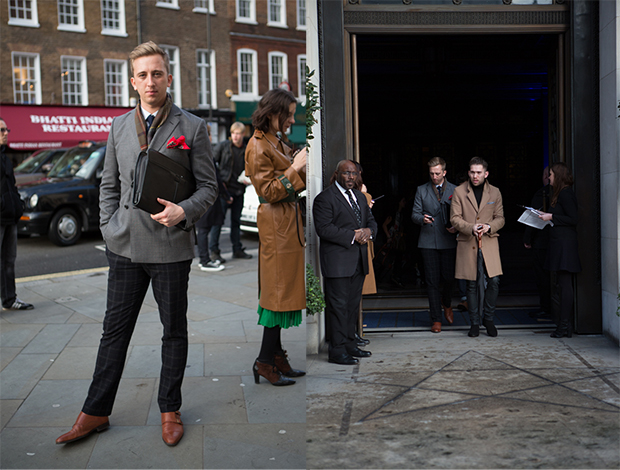 The day kick started with breakfast at Hunter Gather, and I was impressed with the turn out. Although I wouldn't wear the collection, the prints and leathers really stood out. The neon bomber jacket also caught my eye, in fact, I'm pretty certain the vibrant piece caught everyones eye.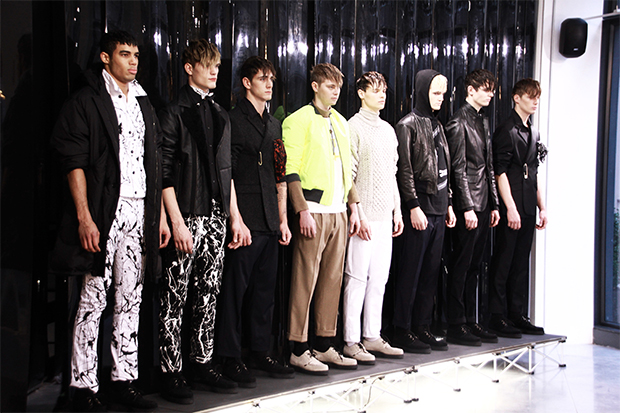 Again, an early start meant I had to skip breakfast, and apart from the odd pastry at the Hunter Gather's breakfast I felt the need to refuel before a busy schedule. The weather was poor, and I knew there wasn't going to be much time for lunch, so I needed something warm and filling… pancakes. Just off Regent Street, these Banana Pancakes were mind blowing.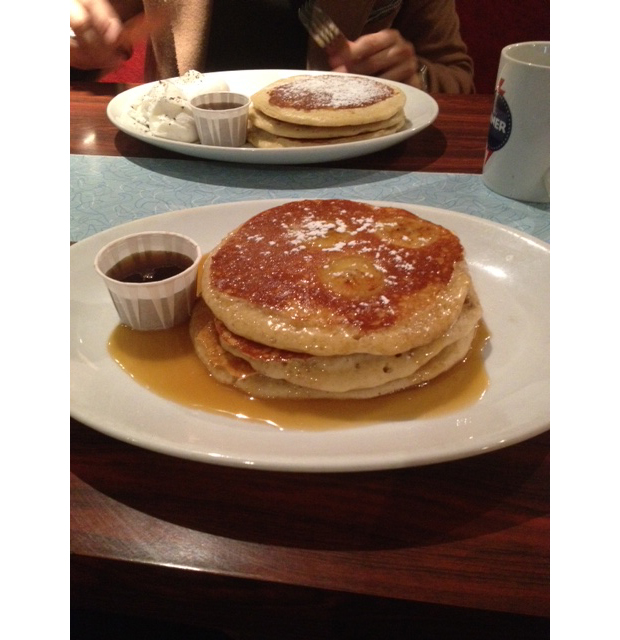 Back to the shows, and we just caught the Common presentation. The collection from Richard James was faultless, and then I headed off to Hackett.
I expected big things from Hackett, and they didn't fail to impress. With an obvious influence from past trends and the 20's, the whole show, and collection really was a key part to day 2.
Duchamp was another highlight, as the presentation showcased some of their finest pieces from the AW14 collection. Models and actors were combined to produce a presentation with a bit of excitement.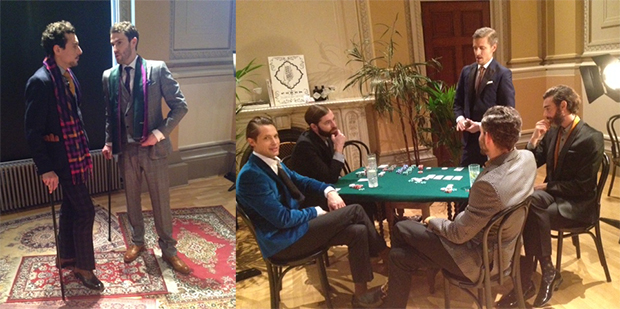 Other highlights from the day came from RAKE, Savile Row, Woolmark & St James alongside Casely-Hayford.
The evening was spent in the presence of Pretty Green, and I was really suprised with the collection on offer. We we're going to head to the Superdry event, alongside Ben Sherman, but the DJ had us hooked. I'll defiantly be investing in one or two pieces from the Pretty Green AW14 collection too.
Day 3 at LC:M
Day 3, and another early start. I opted for a simple look, pairing a vintage tweed Hardy Amies blazer, with a made to measure Norton & Sons shirt. The tie was vintage YSL, and the trousers from Reiss. The tan brogues came from Duggers of London, an exciting brand you should defiantly look up.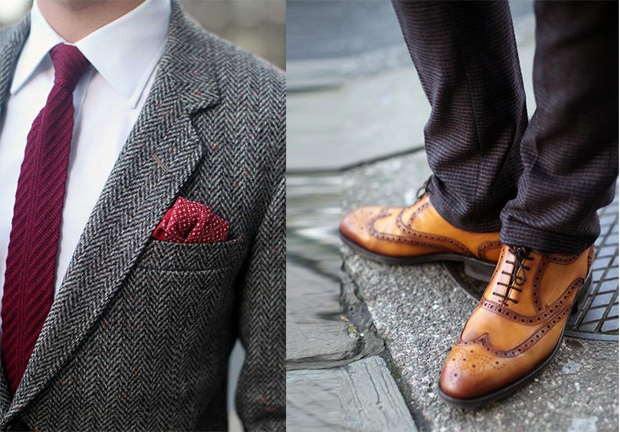 The day kick started with Agi & Sam, a show I, alongside others were looking forward to. After recent awards for the designers, their collection featured heavy influence from African cultures.
I kindly got placed front row, next to Jack Guiness and Oliver Cheshire, which of course made me look more drained next to them than I originally did.
E. Tautz was up next, and Patrick Grant did a great job. I managed to meet up and interview Patrick Grant a few months ago in regards to his collaboration with Chivas, and he's defiantly one of the nicest characters I've met in the industry. (
Read the interview here
.)
Graphic coats were a heavy feature, alongside of course tailoring.
Pringle of Scotland, John Lobb and Kent & Curwen put on some great presentations, and the Oliver Spencer show (minus the delay) lived up to expectations. Unstructured wearable menswear was on offer, and John Bradbury from The Specials on drums all added to a great show. Gary Kemp featured on the runway, alongside Alex James also.
A quick walk to Victoria House and Katie Eary was the next show. I really didn't know what to expect, as I'd never really seen a lot of Katie's collections before. This was one of the busiest shows, with people being turned away and the venue probably at full capacity.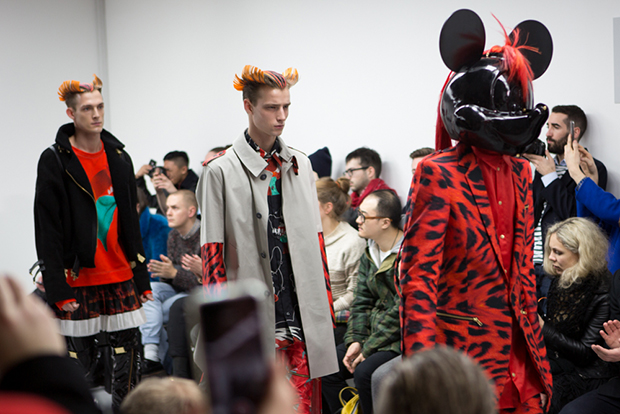 Mickey Mouse helmets, punk inspired hairstyles, all led to a pretty crazy but amazing show. Prints featured heavily, and the cuts and fabrics used were to be admired.
Burberry was next up, and we headed to Regent Street to watch it. Pretty gutted that my application was too late, we got treated really well at the flagship store. With some amazing drinks on offer, a select few of us got taken to the lounge on the top floor to enjoy strawberries and champers.
The show was actually pretty moving, and the music complimented the collection superbly. Oversized holdalls stood out, alongside the draped silk scarves. Props to you and your team Mr Bailey.
Another great presentation from Chester Barrie, who showcased one of my favourite looks from the three days.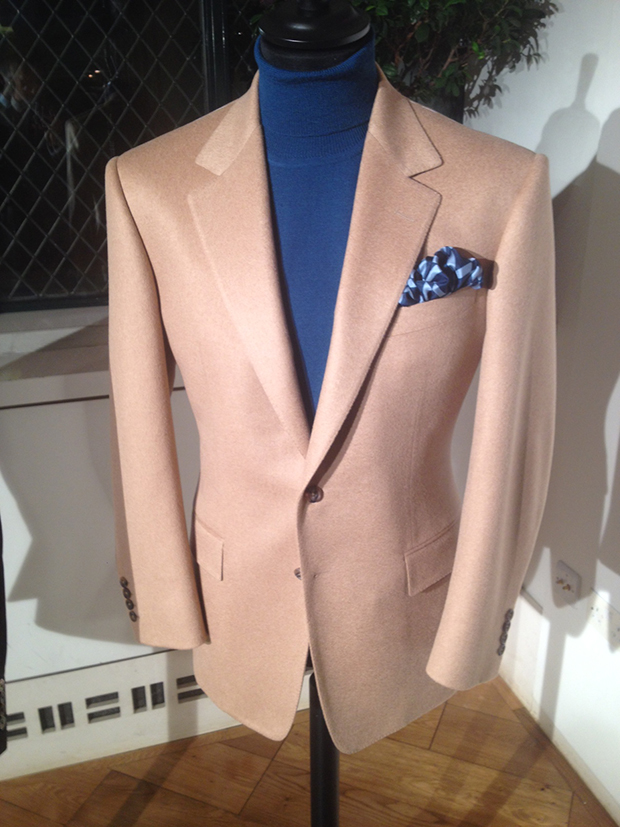 Whiskey, alongside Blackjack and Craps added to a great showcase of their AW14 collection.
A. Sauvage finished the three days off with his debut show, and again was one of my favourites from the three days.
The evening finished at the Fash on Film event by River Island, where drinks were flowing and their was a showcase to some amazing short films. The Joseph Turvey film stood out for me, and it capped off a great event. I also managed to meet Dynamo, a magician I'm actually pretty fond of. I refrained from taking shameless selfies throughout the three days, but this is one I had to get. Genius.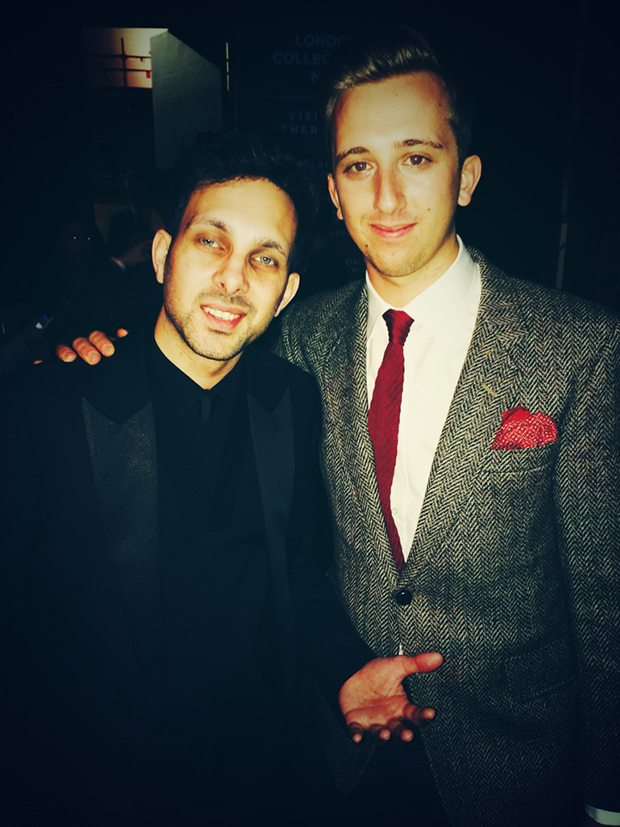 Well done to the guys at BFC, alongside all the designers and people involved with the three days.
Looking forward to next season.
Paul