I guess simplicity comes with age and maturity. Could it be down to the fact the older we get, the less our minds seem to be able to process? Or maybe it's down to the fact in todays modern world, full of information overload, we're bombarded with too many things so always edge towards doing something in the most simplest of ways.
It could be anything. If you want to learn a language, you want to learn it through the most simplest method and you want to learn it in the quickest manner. If you want to learn an instrument, you want it to be simple to play and you want to reach a certain standard within a short period of time. Simplicity can relate to anything, but today our focus is on style.
[activecampaign]
The Principle
Again, I think its an age thing. I'm still pretty young (if I do say so myself), but I've found that as we start to reach our late twenties, we turn more towards sophistication and investments. When I was in my late teens, I used to hunt high streets looking for bargains on clothing and had no real plan on what I was buying. "I need a new shirt for tonight" was a good one, only to then go and wear it once because the style of the shirt was only "cool" for that specific month.
With a buying mentality like this, I found myself having a wardrobe full of poor quality, cheap, on trend pieces. My wardrobe was close to collapsing, and my bedroom looked like I'd try to re-create my own TK Maxx. I had a few staples of course, but I quickly found myself wearing the same thing over and over again. It's kind of like the 80/20 principle by Pareto. 20% of my wardrobe created 80% of what I wore. The rest just kept my hangers busy…
20% of the clothing you own = 80% of the outfits you wear.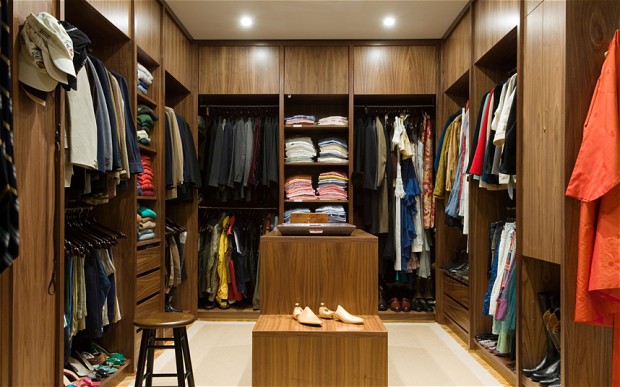 ABOVE: How your wardrobe shouldn't look.
[activecampaign]
Clear The Clutter
It's the first step to simplifying your style (which I'll talk about in a minute), and it's the first step to simplifying your wardrobe. You need to just go through everything you own, and think about how often do you wear it? Once a year? Chuck it. Once every 6 months? Chuck it. When you've lost 3 stone? Chuck it. You really need to strip what you own down to the bare minimum.
Focus on keeping the clothing that compliments the style you're going for, and the clothing that you feel good in and you receive compliments for wearing.
As for the rest, simply bag it up and donate it to charity. If not, list it all on eBay… and you'll be surprised how much you'll probably get for some of the pieces in your wardrobe.
Simplifying Your Style
This is the key ingredient. If you're a regular guy who has no real interest in men's fashion or style, there's no way that you don't have a slight urge to look good. Looking good comes with having good style, and feeling good about what you wear. I'm going to break it down, giving you a step by step guideline on what you should do to simplify but enhance your style.
1. Decide on a uniform
Us as gents react well to uniform. We were conditioned as youngens to wear a uniform throughout our school years. The majority of us don't like reinvention, and we don't like change. Therefore, think about the personal style you want to achieve? What do you feel comfortable in? Is there a style icon you envy? Think about the style you'd personally look good in along with the style you'd feel comfortable wearing every day.
2. Focus on essentials
You then want to write a list of essentials. What clothing do you need to consistently wear that uniform? It could be 5 shirts in different colours, 3 pairs of tailored trousers (one navy, one black and one grey), 2 blazers (one single button, one double breasted), 2 sweaters (a v-neck cashmere sweater and a navy cardigan), a coat (make sure it's timeless) along with two pairs of shoes. This acts as your base, and you can consistently wear these items, knowing that you look good. You need to focus on fit here, don't buy essentials that don't fit you well…
3. Pay attention to detailing
This step is really key. When we create a uniform, the idea is we are wearing basically the same thing day in, day out. Therefore paying attention to detailing is what's going to change the way you look every day. Focus on accessories which add detailing to your uniform, and accessories that catch the eye. Alongside this, think about the minor details you could apply to your essentials. Can you leave your cuffs undone? Roll up your sleeves? Roll your trousers up to show a flash of colour from your socks? The minor details is what's going to enhance your style each day.
4. Be consistent
You've now got a wardrobe full of essentials, meaning that you should wear everything you own on a regular basis. You've got accessories and an eye for detailing, leading to further enhancements in your style. You now need to be consistent. Don't slack, and fall in to old habits when it comes to what you wear and what you buy. Only invest in investment pieces, and slowly build your wardrobe. Don't go on a rampage, buying everything in the sale leading to you buying more hangers. Wear your uniform, day in, day out, and wear it with confidence.
Wrap Up
It really is an easy as it sounds. Like learning an instrument, there's always simple ways to get to a certain level. It's the same with a language, you don't need a degree to be able to get to a specific standard to have a conversation using a second language. Style is the same, and this article shows you how easy it is to simplify your wardrobe and how easy it is to simplify and enhance your style.
[activecampaign]
It will save you money in the long run, and it will even leave more wardrobe space for your other half… (good books here we come!)